Walk in Cooler Condensing Unit is the most important component for the cold storage room which is widely used in supermarket. With the development of supermarket like Wal-Mart, 7-ELEVEN, Family Mart etc, walk in cooler is became the rigid demand for supermarket. So as a major component in walk in cooler, condensing unit has become an indispensable part as well. Today we would like to talk about the walk in cooler condensing unit.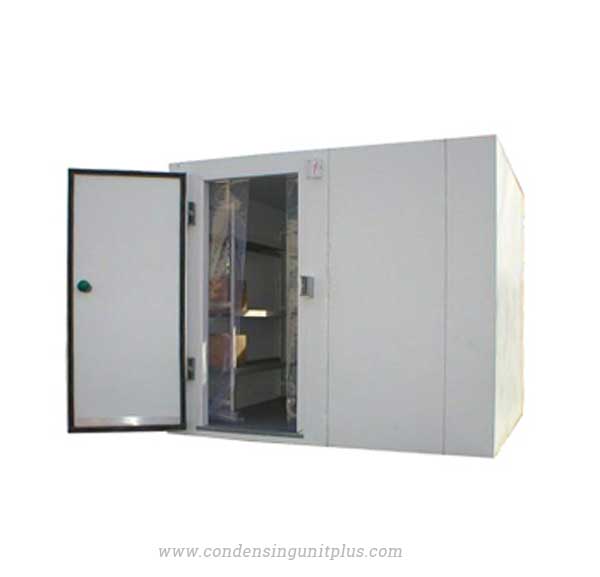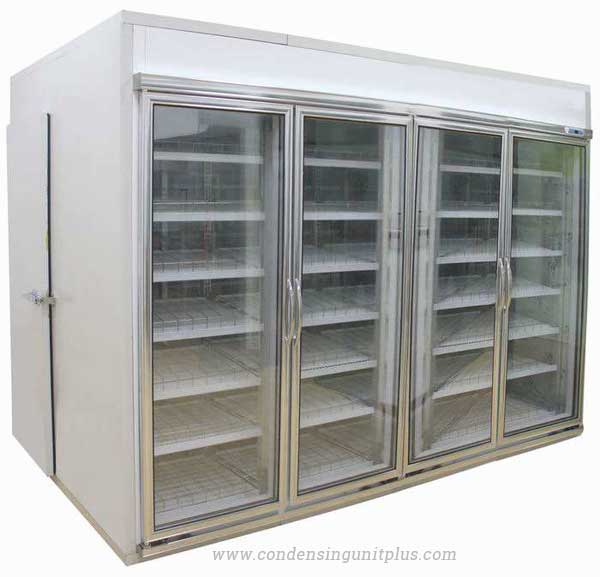 Firstly, there are several types of walk in cooler for supermarket, the popular model which we sale most are cold storage cooler and walk in cooler with glass door. The common characteristics for walk in cooler condensing unit are low noise and small volume. Please let me to introduce the walk in cooler condensing unit from OnlyKem.
— Walk in cooler condensing unit specifications
Medium Temperature
Emerson Copeland Compressor/Bitzer Piston Compressor/TECUMSEH Compressor
Customized Voltage/Domensions
Galvanized Body/Stainless Steel
Including Compressor, Dry Filter, Condenser, Oil Filter, Suction Accumulater, Sight Glass, Oil Separator, HP/LP Control, Liquid Receiver and etc
Axial fans
Famous Brand Spare Parts
Different Types: Discharge/ Box/ Open Type
— Walk in cooler condensing unit advantages
Reasonable design, high reliability and efficiency
Heavy duty steel base. Protects against corrosion, strong Leg support
Compact, pleasant looking and convenient to install, box type unit
Axial fans with high efficiency and low noise
Protection device for phase sequence, overloading, sub-heating, increase efficiency of the system, and prevents compressor damage by controlling HP/LP
Pre installed High quality dryer and Freon glass and Timer makes the installer's job easy
Stability fan control switch stabilizes the freezing of liquid line, minimizes formation of flash gas to increase efficiency of the system, and prevents compressor damage by controlling HP/LP
Easily accessible wiring. Compressor comes with a wiring harness that is manufactured with connections that will not come loose with vibration
Welding using silver electrodes
Copper tube connector: connecting with fitting reducer
6Mpa leak-proof stress test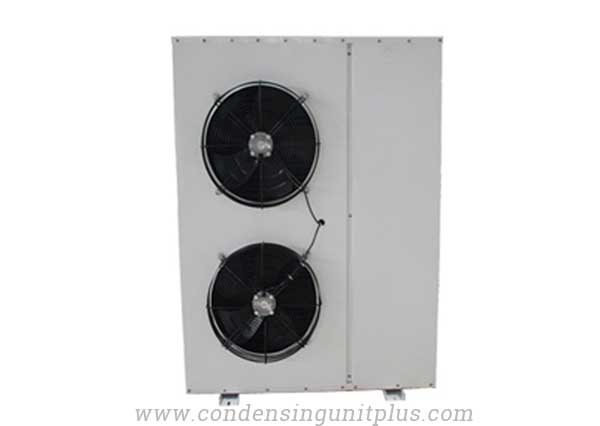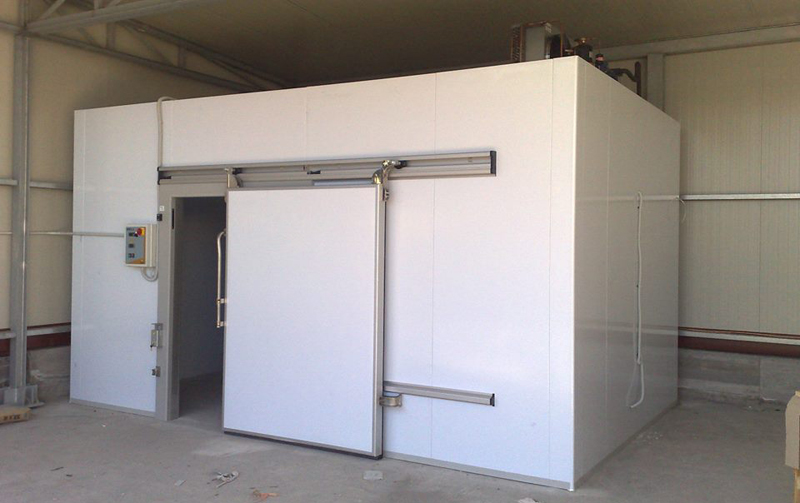 The walk in cooler condensing unit is mainly used for storage usage, usually installed in the underground of supermarket. Our walk in cooler normally is used to store for every kind of foods, such as vegetable, meat, beer, fruit etc, each kind of food has specific storage temperature.
B: Walk in cooler condensing unit in supermarket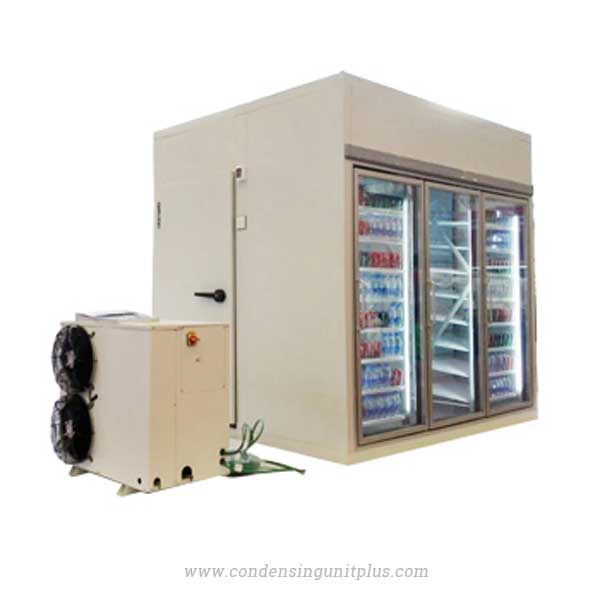 This kind of walk in cooloer is mainly used to display drinks, wine, beer, frozen pasta foods etc. This kind of condensing unit should have very good low noise effect and small size, also have request of its outlooking. It is more popular for America, New Zealand and Australia using, low cost and high efficiency. Emerson Copeland scroll compressor meets this request very well, accept voltage customized.
C : Cold room condensing unit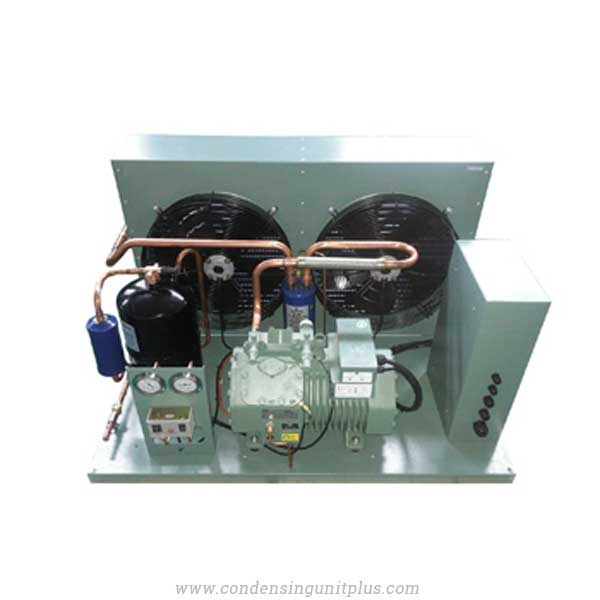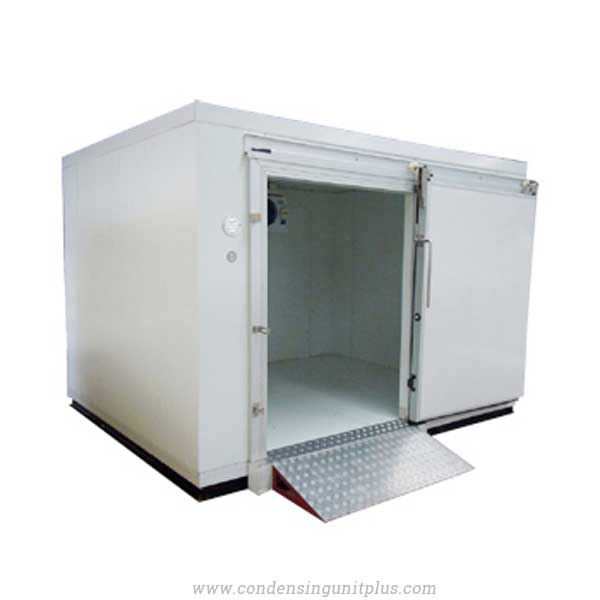 This kind of condensing unit is often equipped with Bitzer compressor, which has medium temperature and low temperature. Basically, Bitzer piston compressor is more suited forsuch countries  as Benin, Ghana, Guinea, Nigeria and etc. High ambient temperature is their typical climatic conditions, which has a high request for compressor and condenser.
All voltage in the world can be customized for Bitzer compressor, which is more flexible than Copeland compressor. Compared with the same horse power compressors, Bitzer brand cooling capacity is larger.
— For walk in cooler condensing unit installation
Where possible, select a location for the condensing unit which is shaded from the direct rays of the sun most of the time. North of east locations are usually most desirable. Position the walk in cooler condensing unit to avoid direct contact with water, snow or ice from a roof line overhead.
The condensing unit must be installed on a solid, level mounting pad that will not settle or shift. Isolate the pad from the building structure to avoid possible transmission of sound or vibration from the condensing unit into the conditioned space.
The condensing unit foundation should be raised to a minimum of 3 inch. above finish grade. In areas which have prolonged periods of temperatures below freezing, and/or snowfall, the condensing unit should be elevated above the average snow line. Avoid placing the condensing unit near areas such as sleeping quarters or study rooms. Normal operating sound levels may be objectionable if the condensing unit is placed near certain rooms.
OnlyKem has registered the International Trademark by the Madrid Trademark Registry in Spain, France, Germany, European Union, Italy, Australia, New Zealand, Columbia, U.S.A, Kenya, Algeria, Kazakhstan, Uzbekistan, Mongolia, Russia, Turkmenistan, Bulgaria, Vietnam, Singapore, Indonesia, Thailand, Cambodia, Philippines, Korea, Mexico countries, does these include your country? We are very pleasure to let you be our agent in your country, if you have interests, feel free to send Email to us. We believe, together, will be better !