High Temperature Unit Cooler is commonly used for optimal distribution of cooled air in refrigerated cold rooms or freezer rooms, it is one of the important component  in cold storage system. OnlyKem high temperature unit cooler is designed and manufactured for larger walk in cold room or freezer room, they may also be utilized in warehouse and other cold storage applications in the commercial and industrial refrigeration markets.
Our high temperature unit cooler is constructed of a heavy-gauge, smooth finished aluminum cabinet or galvanized steel with copper coils, aluminum plate fin foils and permanently lubricated ball bearing fan motors with inherent thermal protection. These draw-through units are designed for ceiling mounting in cold room and are available in air defrosting, electric defrosting and hot gas defrosting configuration, the heat exchange with internal cold storage room can be achieved through inner low temperature refrigerant.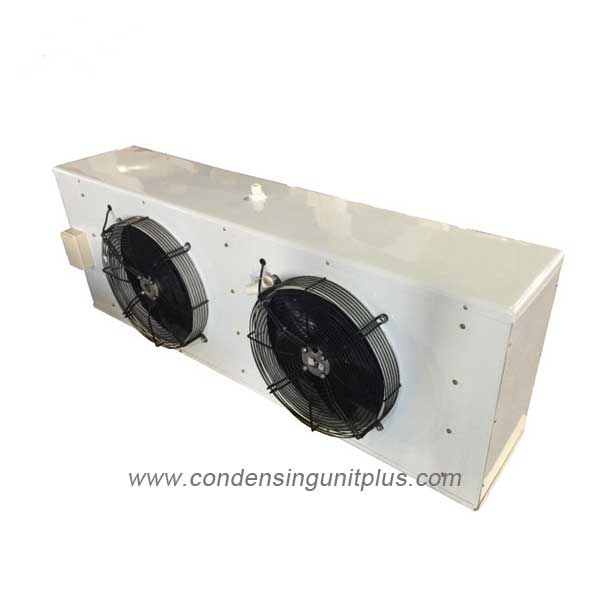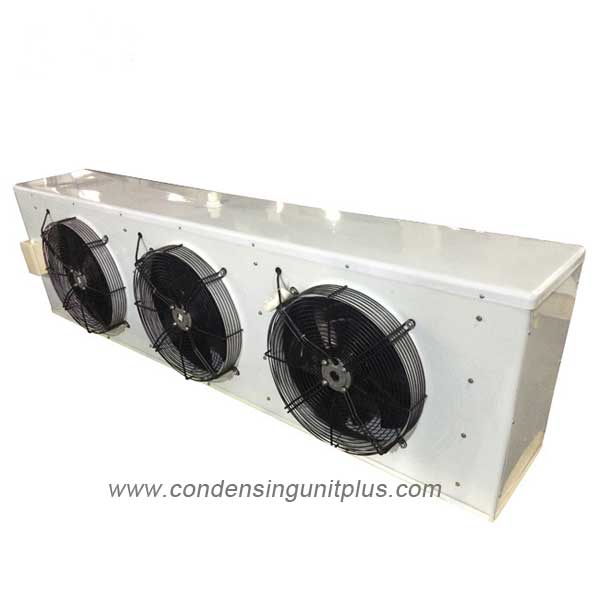 Production of High Temperature Unit Cooler
This program applies to production models of high temperature unit cooler, as defined below and meet the following criteria:
Use refrigerant R-717 for DX and/or liquid overfeed coils;
Aluminum fins;
Single vertical coil;
Horizontal only air flow direction (the air flows to or from the inlet face of the coil from or to the fan inlet, with no change in direction); and
Axial fans only.
A factory made assembly including means for forced air circulation and elements by which heat is transferred from air to refrigerant without any element external to the cooler imposing air resistance. These may also be referred to as Air Cooler, Cooling Units, Air Units or Evaporators. Unit Coolers utilize a volatile refrigerant fed by either direct expansion or liquid overfeed with ratings based on wet or dry conditions.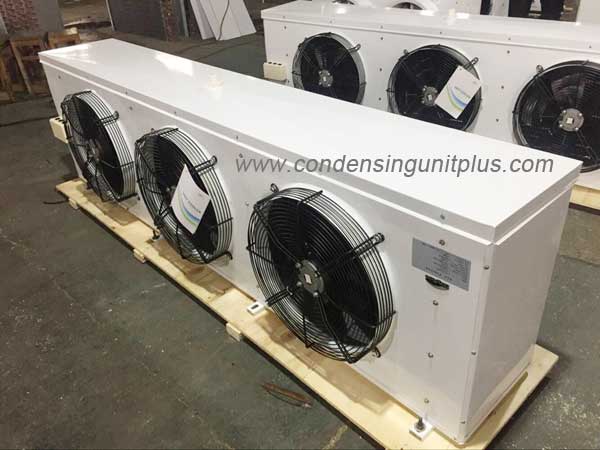 Parameters of High Temperature Unit Cooler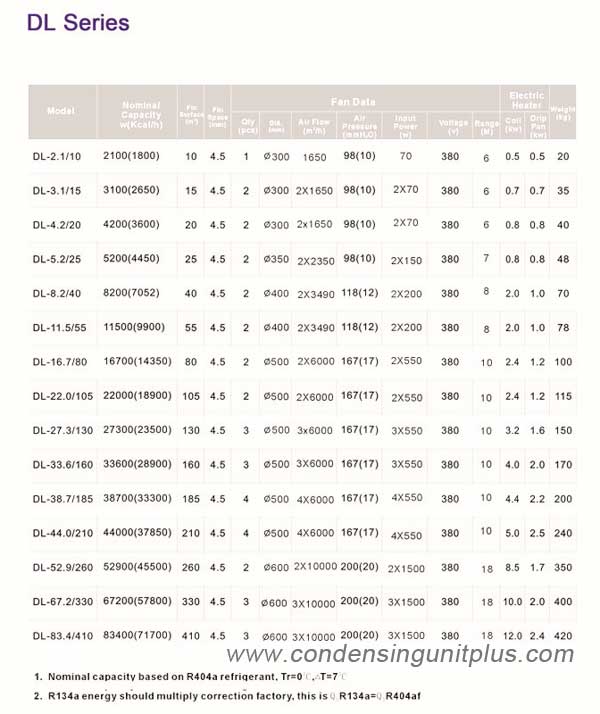 Details and Advantage of High Temperature Unit Cooler
The unit cooler with blue fins (Hydrophilic aluminum foil), there have anti-corrosion material in its surface, good anti-corrosion performance.
Wavy fins can keep form air flow, speed air flow.
It is used stainless steel screw with better anti-corrosion performance ,more suitable for evaporator using environment.
Every high temperature unit cooler have CE quality certification.
Using silver electrode for copper pipe welding. More firmly for welding point , good leakage proof.
Dry nitrogen to holding pressure, in order to prevent the air into the copper pipe to be oxidized, also can detect whether the leakage of welding.
Protection welding, with stable welding point, beautiful appearance, high pressure resistance and safety.
Three kind of evaporator shell : galvanized sheet, embossed aluminum and stainless steel powder painting for your choose.  Anti-corrosion, high cost-performance suitable for small type , light and beautiful.
Sufficient number of pipe rows. The cooling effect is related to the total length of the copper pipe, and the sufficient number of pipes can ensure enough cooling capacity.
Voltage can be customized for evaporator. Suitable for different countries electrical requirements;
Copper tube connector: connecting with fitting reducer, stable welding pointing. Refrigerant no leak, beautiful.
IP54 level of protection, brand axial fans used in high temperature. High level protection, large volume, small vibration, low noise, small size and easy to install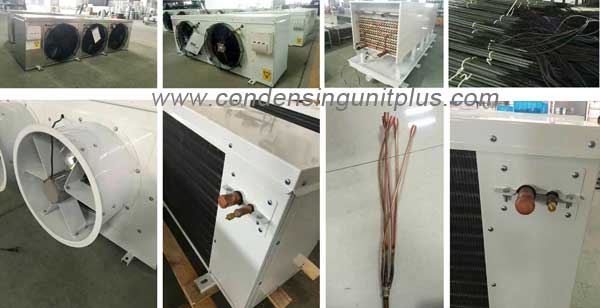 Features of High Temperature Unit Cooler
1, Galvanized sheet spray process, good corrosion resistance
2, Internal thread copper tube, high heat transfer efficiency
3, Hydrophilic aluminum foil, high heat transfer efficiency, good defrost effect
4, With defrost protection, high safety factor
5, Specific moisture proof motor with low temperature, low failure rate
6, Independent duct design,it can reduce the interference between the fans
7, Liquid-filled liquid supply, fully evaporation, high evaporation efficiency
8, Electric heating pipe is Italy brand, high efficiency, long lifespan
9, 100% heat transfer area , fully reliable
10, The fans can be removable, easy maintenance
11, The fan noise is low
12, Water tray, outlet uses copper pipe interface, long lifespan
13,The side of evaporator can open as small door,easy for maintenance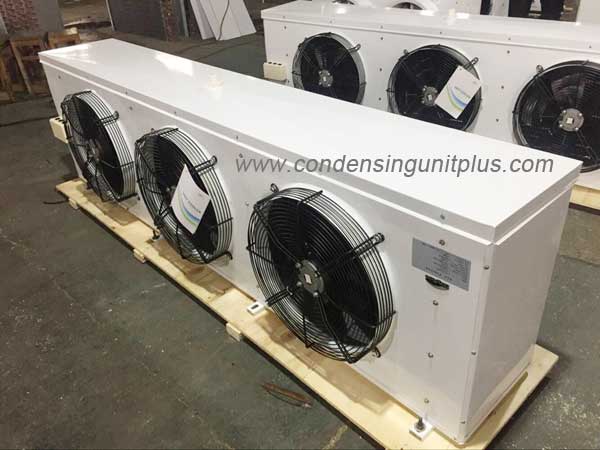 Application of High Temperature Unit Cooler
High Temperature Unit Cooler is suitable for fresh-keeping storehouse around 0 degree. There is a case for your reference. You will know how to choose suitable unit cooler.
Country: America
Application of cold room: To store strawberry
Temperature requirement: +5℃
Cold room size requirement: 12x5x3meters (LxWxH)
Voltage: 220v/60hz/3phase
Unit cooler model: DL-16.7/80 (2 pcs)