Emerson Copeland compressor condensing unit is the American brand. In the years since Emerson Climate Technologies Introduced ZB scroll compressors for medium to high temperature refrigeration and process cooling applications, emerson Copeland compressor condensing unit has been well received by our customers. ZB scroll compressor is revolutionizing this segment of the industry by providing following benefits to our customers.
* Complete range between 2-15 HP
* Proven reliability
* Superior efficiency
* Low sound levels
* Availability for HFC and HCFC refrigerants
* All voltage offering
* Oil sight glass & Rotalock features
Customers can be confident that ZB scroll compressors are coming from Emerson Climate Technologies experience of over 80 million scroll compressors. ZB scroll compressors are manufactured in our scroll factories in Suzhou, China. To our customers, this gives additional value by lower inventory and reduced shipping cost.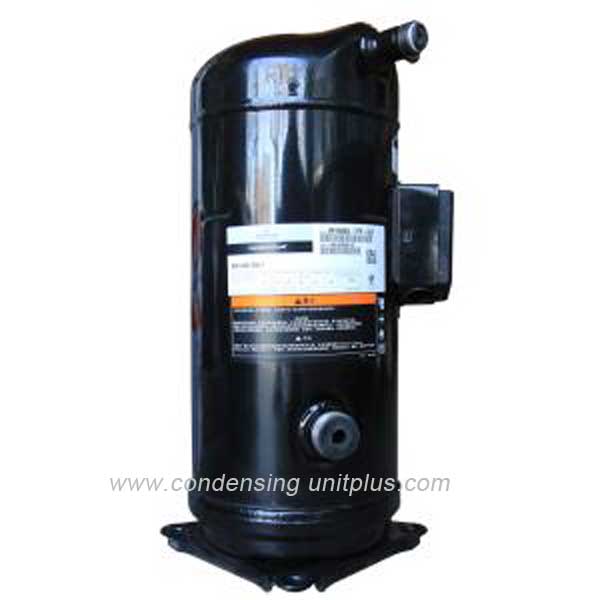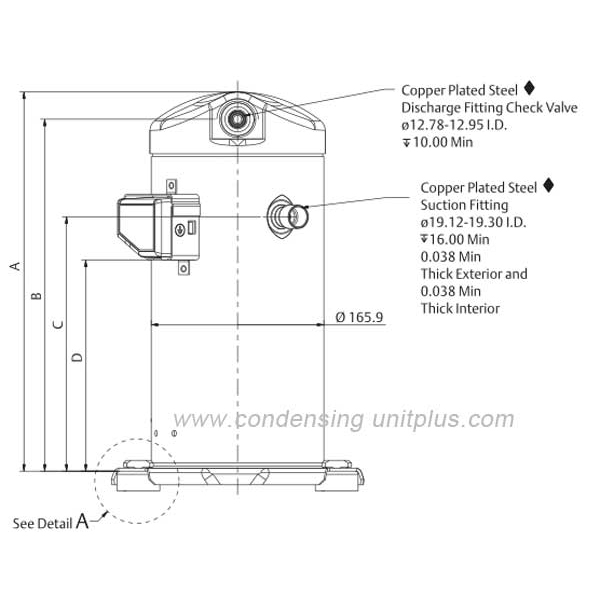 Condensing unit with Copeland compressor is also called Copeland compressor condensing unit, it is the important refrigeration product to the Asian market to primarily meet the demands of the food retail services and logistics sector. Copeland compressor condensing unit is an air-cooled, outdoor-type refrigeration condensing unit that uses patented Copeland scroll technology as the main driver and has electronic protection, diagnostics and communication features in-built into the compact chassis.
The food processing industry is increasingly demanding equipment reliability and low energy consumption. The Copeland scroll compressor unit relies on its reliability and high energy efficiency ratio to pass the test and stand out.
There are two series of Copeland compressor condensing units such as OKMXXA and OKM XX S series which use unique scroll technology to provide customers with fundamental choices in medium and high temperature refrigeration applications. The Copeland compressor condensing unit is equipped with an E2 controller that monitors the operating state of the press molding machine in real time to ensure that the compressor operates within a safe range. On-site testing conducted in cooperation with customers proves that the condensing unit can save 30% of electricity per year, equivalent to 650USD electricity (as an example of 5HP condensing unit).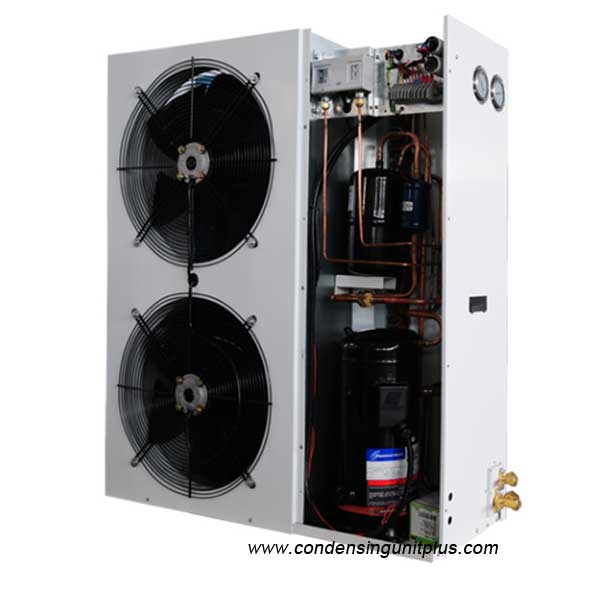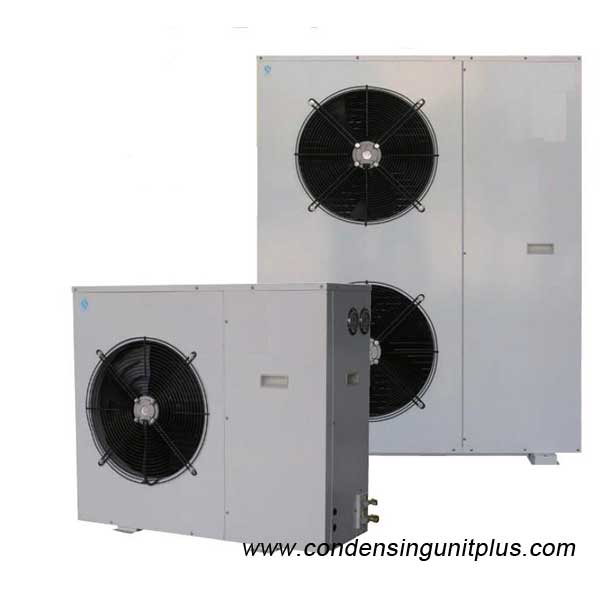 The general configuration for Copeland compressor condensing unit includes Copeland scroll compressor, oil separator, air cooled condenser with axial fan, liquid receiver, dry filter, sight glass, solenoid valve, dual pressure switch, HP/LP gauge, etc.
The unit uses an electronic monitoring system and multiple sensors to continuously monitor the compressor status. Built-in smart devices optimize compressor performance and increase reliability. The unit is suitable for all kinds of outdoor environmental conditions, and the operating temperature range is between -25 ℃ and +48 ℃.
The Copeland Scroll Series condensing unit is compact which is low in noise and an ideal refrigeration unit for small retail stores in the city.
In order to keep food fresh, it is necessary to establish a systematic, standardized and sustainable cooling capacity, covering from product harvesting, processing, transportation to store and sales. The cold storage is the node connecting all parts. The cold storage refrigeration system not only has high standards for low failure rate and long-term reliable operation, but also has a wide range of operational capabilities due to the diversity of video preservation.
Copeland scroll compressor process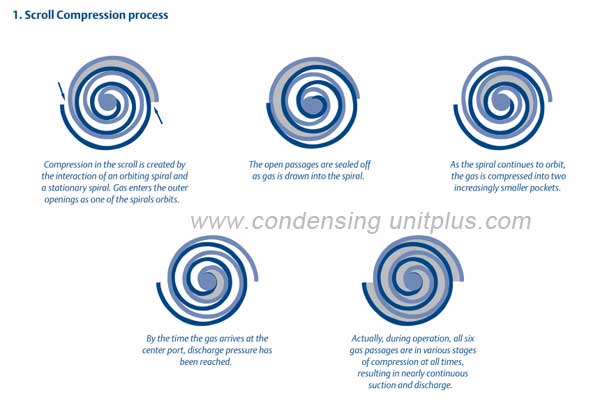 Advantage of Copeland compressor condensing unit
1. High energy efficiency and high reliability
Compared with piston compressors, compliance design also allows the scroll involutes to separate in both the radial and axial directions. This allows debris or liquid refrigerant to pass through the scroll involutes without damaging the compressor. Benefits of Dual Compliance are:
* Increased efficiency
* Better liquid handling capability
* Better handling of debris
2. Much wider range of temperature applications
The spray technology of Copeland compressors improve the reliability of operation under low temperature conditions and the wider operating range reduces inventory requirements.
3. Lower sound, vibration and pulsation
The compression process in a scroll set is symmetrical and continuous. This inherently reduces the sound, vibration and pulsation. This eliminates the need for use of vibration absorbers and suction or discharge mufflers in most of the applications.
4. More environmentally friendly low GWP refrigerant applications
Leading technology and protecting the environment are the key technologies for future product success. Fresh food is produced from clean, healthy water, air and the environment, so there is a need to protect the environment from the pursuit of new technologies. Copeland compressor condensing unit makes a huge contribution to slowing global warming by using environmentally friendly refrigerants
Application of Copeland compressor condensing unit
The versatile Emerson Copeland compressor condensing unit is suitable for a wide variety of applications:
Supermarkets (medium to small)

Cold rooms

Convenience stores

Independent cold rooms

Fast food chains and restaurants

Process room cooling (10 ℃ room temperature)